The Sony Ericsson W960 phone has a number of
extra media features over and above the Walkman music player that I've
previously discussed here. So what do these extra applications do to enhance the W960 as a 'music phone?'

Just The Feed Ma'am, No Podcasting…
Probably
the first thing to note is the RSS Feeds application – while Sony
Ericsson have added in an RSS reader with the ability to download audio
and video files, as part of the Music Manager on the PC, there is still
no support in the built in RSS Feed application beyond pointing you to
the web site of the feed and leaving you to manually find the media
file on the page. RSS is becoming more and more associated with media
phones, and this flaw has been pointed out on previous music devices
from Sony Ericsson, notably the W950 Walkman phone from last year. By
not updating this application it feels like they have missed the same
open goal… again.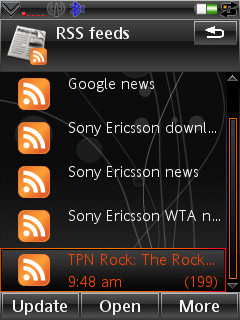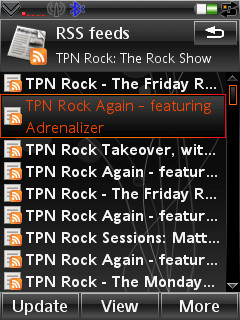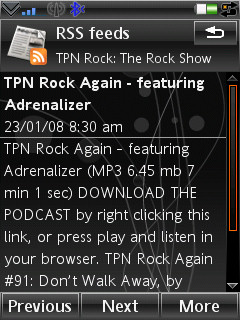 You're listening To Super 60s FM 101.5
Every
time I pick up a music (smart)phone that has an FM Radio bundled into
it, my first thought is why? My second thought is usually just how very
useful it is to have one to hand. It's low powered entertainment when
out and about, and, while the obvious cause is music, talk radio is
available, as is artier programming in the form of BBC Radio 3 and 4.
And you know you can get the news at the top of the hour without having
to go online or make any web browsing effort.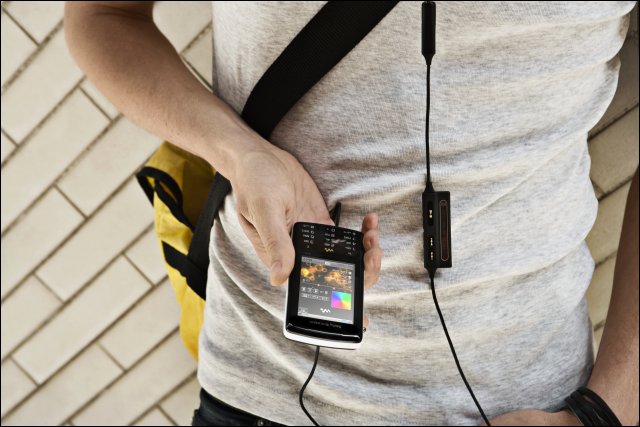 For
all the nice visual touches added to the FM Radio application,
including similar visualisations to the Walkman player, radio is even
more designed for audio only. You find your music and you
leave it alone. It sits nicely in the background and does not impact
performance. And of course there's very little interaction with the
internet.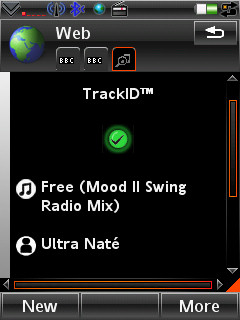 What interaction there is comes
with the TrackID function. Hit this option and a few seconds of the
current audio from the radio is sent up to the Gracenotes server, which
will analyse it and let you know who the artist is, what track it is,
and which album it's from. All well and good in practice, but in the
real world the success rate is rather low, around 50-60% for me [0%
from 4 tries for me.... Ed]. I'm sure this will improve over time as
Gracenotes builds a bigger (commercial) database and processing power
improves, but for now it's the sort of thing you'd demo at the pub but
not rely on during the pub quiz.
I'm
still waiting for two things from radio in phones – the first is to
stop insisting that the headset is attached – I know my physics and
they're using this as an aerial to pick up the FM signals, and I know
that reception gets poor without it, but I'd like an override option
and tell it to make a best guess with just an internal aerial. The
second thing is to have Digital Radio, and not just FM, but given that
this quadruples the power requirements and needs another chip, I might
be waiting a while.
But until
then, I'm always happy to be surprised that I still have a radio with
me – and I wouldn't want to lose this functionality.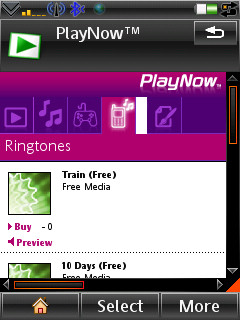 PlayNow, Load Up The Content Later

PlayNow
is Sony Ericsson's on device store, offering a number of games,
ringtones and music to purchase and download to your handset. It's a
cross-platform store, and has been around since early 2004. It was
launched specifically for the ringtone market, and has expanded to the
other fields as the handsets have gained increased functionality.
The
icon acts as a dedicated shortcut to a web browser page, and all your
interaction is done from there. I would have loved to try out some
music, but at the moment I'm told that 'there is no music available for
your region' (but with announcements
in Jan 2008 this could change during the year). So I moved to
ringtones. A grand total of five were listed, I could preview all of
them and then download them to the handset. These ones were free, but
all indications were that a reverse SMS would be used if I was looking
to make a purchase on future content.
Many
people have stated that content is king, and while PlayNow works as
advertised, it can only be considered a demo while Sony Ericsson work
on content deals and populate it with more content as the weeks and
months go by. The infrastructure is ready, now all it needs is some
content.


Watching The Detectives (Or Hill Street Blues)
The
W960's video player is still missing a number of codecs, namely H.264,
but for the 320x240 screen, the older H.263 standard provides very good
results – the big question of "is it watchable?" can be answered with a
strong "Yes!"
The key is in the
actual rendered video file – hand a high quality QVGA MPEG video file
to the W960, and the results are impressive and comfortable for long
periods of watching (at least till the battery runs out on the
handset). This is in contrast to the 3GP-format 15 frames per second
video recorded using the W960, which is below the current expectations
of smartphone recording (see Steve's review for some more on this).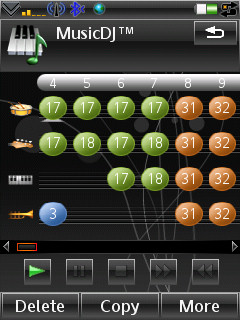 With
8GB of flash memory, there's no reason not to carry around a number of
video files, and if you purchase the full version of Media Manager then
the encoding can be done by Sony Ericsson's software relatively
seamlessly and you don't have to start worrying too much about the
vagaries of online video formats!

Want To Be A Music DJ?
For
the more creative of you out there, MusicDJ is a very basic 4 track
synthesiser. Built into the W960's memory are a number of samples
(small building block clips of music) for the instruments available
(drums, guitar, keyboard and trumpet). You pick up each sample, shuffle
them around the timeline, and get a good beat to use as a ringtone, or
share out with friends.
I'm not
at all electronically minded to work out what's good or not good in
this package. It looks cute, and it's a standard part of the UIQ
software package now, so it must be doing something right.

Summing Up
While
the core of the W960 has to be the Walkman music player, the extra
musical applications that are in the smartphone do add a certain level
of synchronicity to the device as a whole, although much like the rest
of the W960 software there seem to be one or two minor flaws that can
potentially dilute the overall experience. The package is well rounded
and is easily comparable to that supplied on other smartphones.
The
software in the W960 is pretty much identical to that in the W950 from
last year. What makes the difference is in the hardware and the
physical design of the machine. With a much nicer flush screen, regular
keypad buttons and smart styling, the W960 beats the W950 hands down in
the fashion stakes – and with everything else equal, that makes the
W960 a very worthwhile music device.
-- Ewan Spence, Jan 2008